We are still preparing to this release. Please, check later.
Release notes describe what's new in Floorp. The Floorp project welcomes your feedback. You can file bugs and new features on GitHub, or check out the Floorp source code he used for this release.
Starting with version 10, Floorp has auto-updates on all platforms except macOS. A user can update by simply granting a request for administrative privileges. On macOS, Floorp checks for updates on startup. If there is an update, a notification will be displayed and clicking will download the installer.
We would like to extend a special thank you to all the developers, users and contributors who contributed to this release.
---
✨ New
・Browsing more faster. Floorp will be as fast as Firefox.
Floorp Browser now has a 20% performance boost on Windows and Linux x86_64 builds!
Thanks: typeling1578
All the following tests were performed under the same environment (no load on the device, new profile) during measurement. Windows and Linux use different devices.
| | | | |
| --- | --- | --- | --- |
| Browser & Version | Firefox (106) | Floorp (10.7.0) | Floorp (10.6.2) |
| Linux (Ubuntu22.04) | 76.0 | 77.0 | 57.3 |
| Windows (Windows 11・22H2) | 211 | 212 | 132 |
・Expansion of installation method on Linux! Install Floorp the way you like it!
Floorp now supports Personal Package Archives on Linux. Thanks: @お餅のkerohira
You can easily install Floorp with the following command.
curl -fsSL https://ppa.ablaze.one/KEY.gpg | sudo gpg --dearmor -o /usr/share/keyrings/Floorp.gpg
sudo curl -sS --compressed -o /etc/apt/sources.list.d/Floorp.list "https://ppa.ablaze.one/Floorp.list"
sudo apt update
sudo apt install floorp
for the official PPA website Click here.
---
・Please use the Floorp browser even on an ARM PC. Floorp running natively is fast!
Floorp now supports AArch64 builds in Floorp for Linux! Thanks: @dvorak_lya
*AArch64 versions of Debian packages, PPAs, Flatpak, etc. are not provided.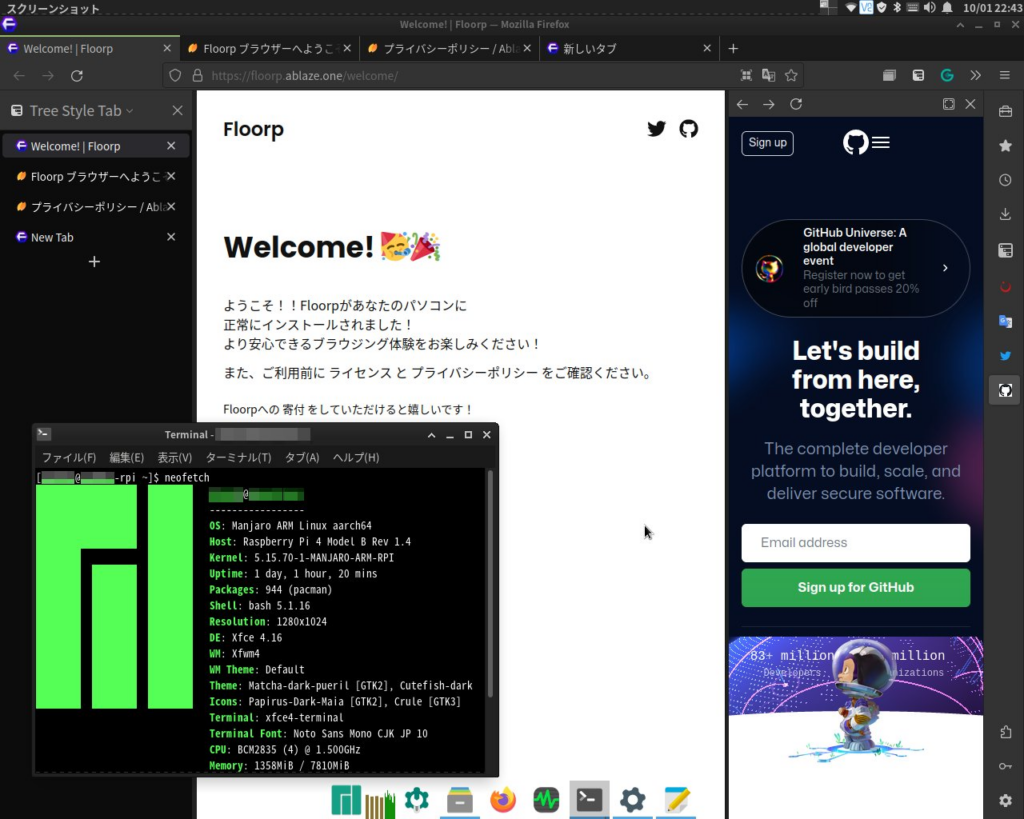 ---
・Needless to change the size one by one. No more annoying resizing !
You can add a context menu to intrinsically sized buttons and use the current size globally from there.
This setting does not apply to web panels with intrinsic sizes.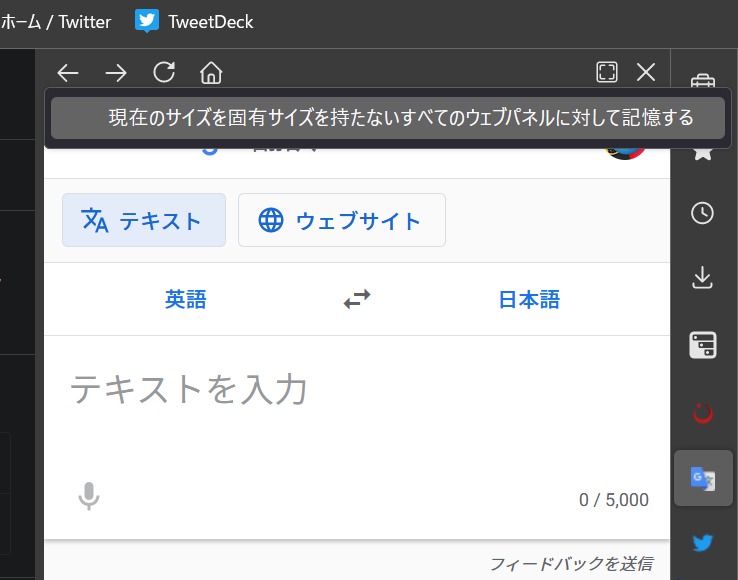 ---
・ Make the most of vertical web panels! Comfortable browsing with mobile layout.
You can now switch user agents in Floorp's webpanel!
It can be changed from the context menu of the panel icon. Floorp will reload the web panel to apply. Some webpages may not function properly due to the use of mobile layouts in unexpected environments.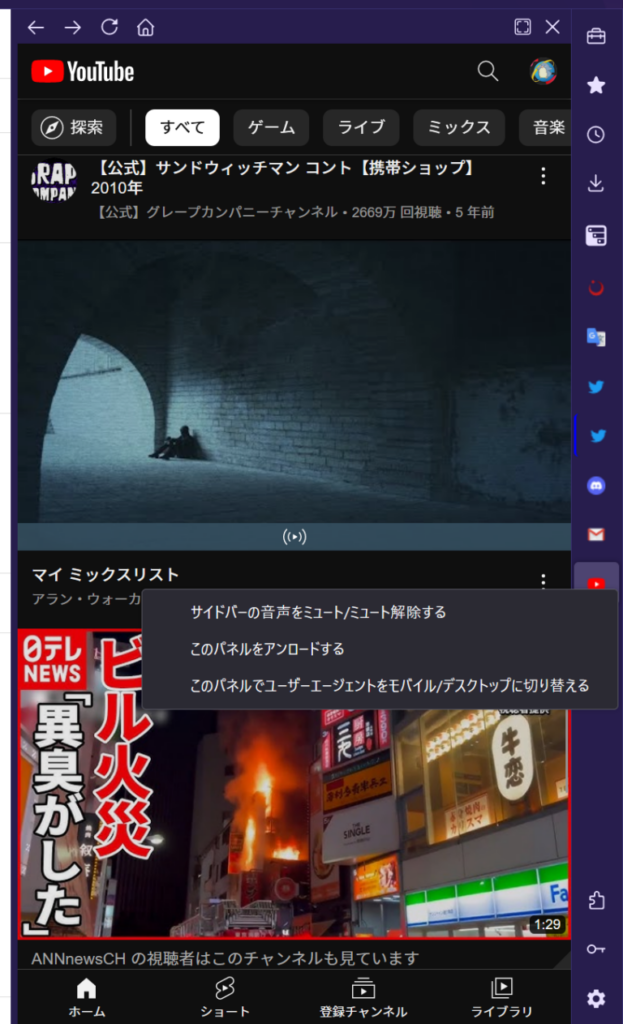 NOTE: For compatibility, we use the same user agent as Edge's sidebar.
---
・Browser manager sidebar has been greatly enhanced! Now easier to use!
The number of URLs that can be set in a web panel is now unlimited. You can set up as many websites as you like. Thanks: @kaonasi_biwa
The configuration has been rewritten significantly, changing the web panel configuration from prompt to site style.
Made normal side panels removable. Now you can customize it even more.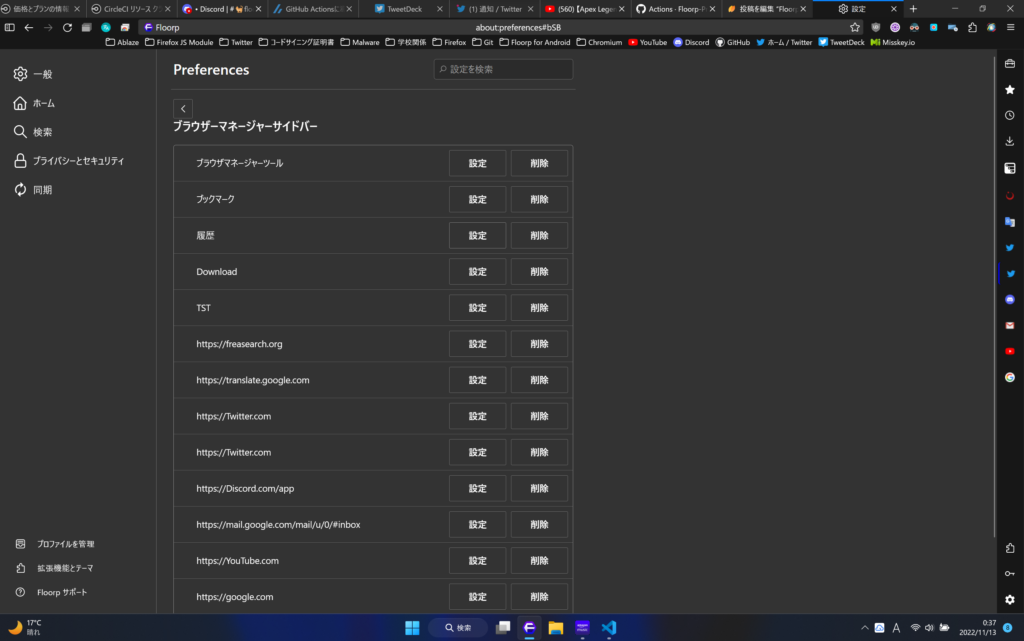 ---
・The restart required by userChrome.css is unnecessary for Floorp. Customization is easy.
You can now customize your Lepton with Floorp. When Floorp is Lepton/Photon UI, CSS customization settings can be used to customize the design.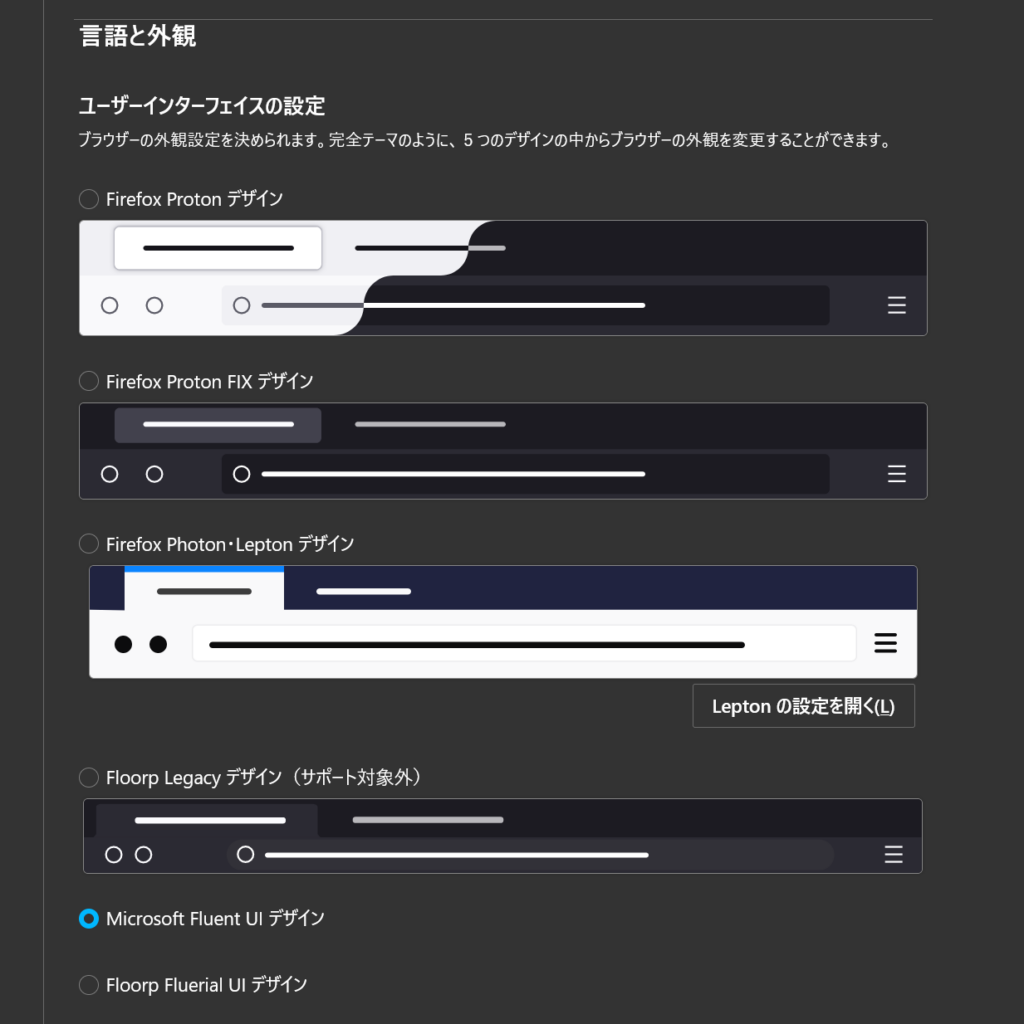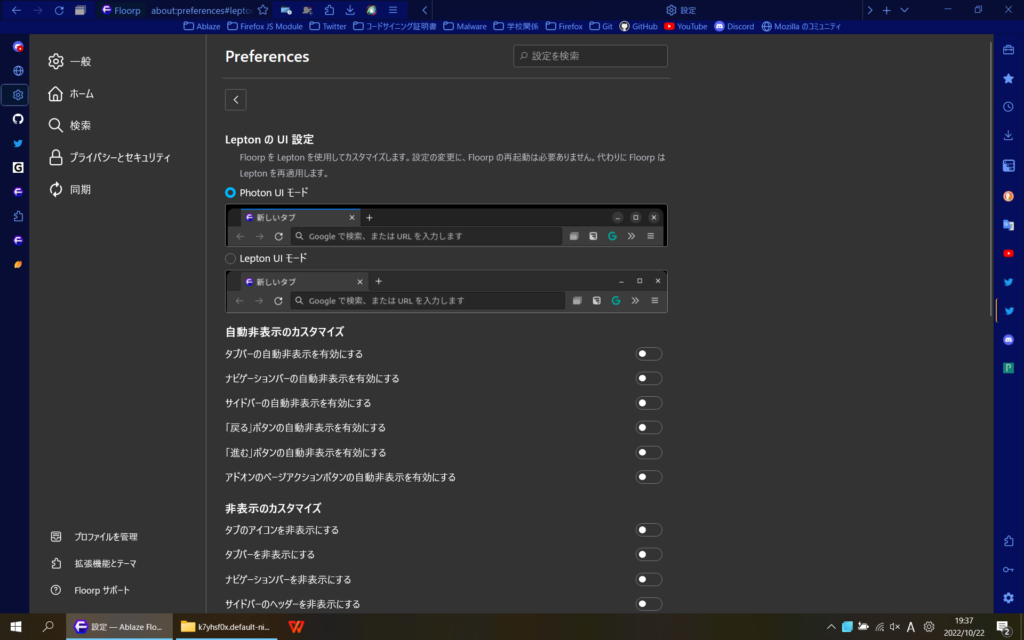 ---
🪐Experimental New Feature
・The URL bar that can be used with Firefox for Android is displayed at the bottom. No need to show the annoying toolbar at the top !
You can now display the navigation bar at the bottom.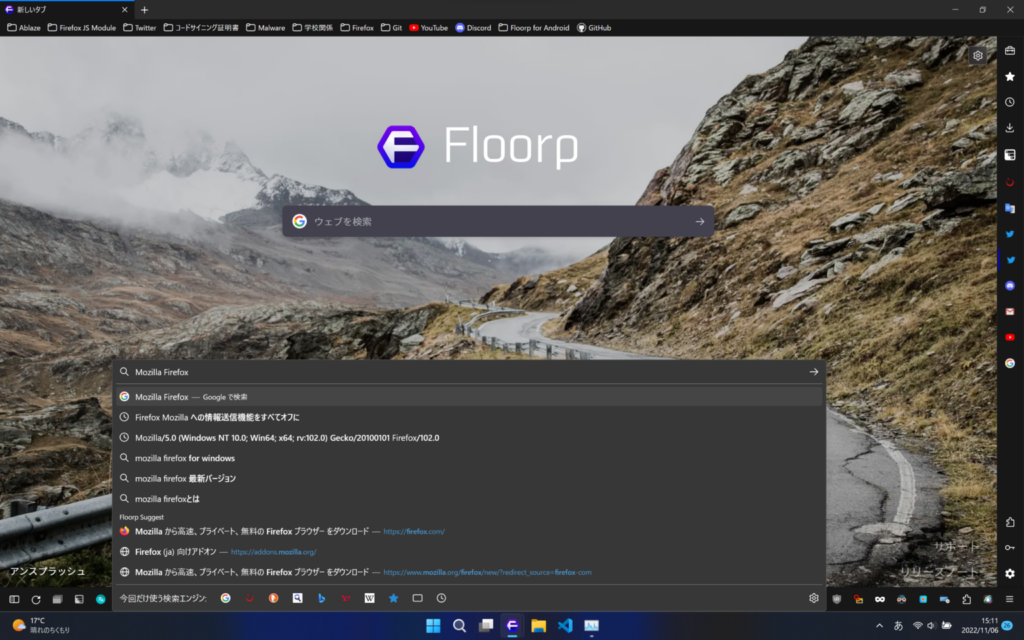 Note: Using Optimize for Vertical Tabs with this setting enabled will cause your window manager to disappear.
---
ℹ️ Changed
・Removed Lepton Original from Floorp design settings and integrated into Photon. Users who were using Lepton will be reverted to ProtonUI.
・Floorp's multi-row tabs are now supported by Lepton Original.
・Open new tabs and Manage tabs button is hidden, when Floorp is in vertical tab optimization mode.
・Now, Lepton Original support multi-row tab.
・Update Photon to 6.4.0.
・Resize the default web panel size from 200 to 400.
・Restored the deleted search engine. Bing, Startpage, Yahoo Japan, and Wikipedia can be used additionally.
・Various visual and UI improvements for Fluent UI.
・Added Fluerial UI design to settings. (Material UI rewritten in Floorp)
❌ Fixed
・Various security fixes.
Fix for CVE-2007-4559, a vulnerability affecting building Floorp (does not affect Floorp users)
Thanks: TrellixVulnTeam
・Fixed an issue where the browser manager sidebar context menu was not translated into Japanese.
・Fixed an issue where the context menu of the browser manager sidebar was rarely displayed too much.
・Fixed an issue where the design of the browser manager sidebar was difficult to see when using Colorway's "Independent Voices" "Life in color" color intensity "Balanced" theme.
・Fixed an issue that the size of the 11th image of the background image of the new tab of Floorp does not match.
---